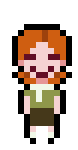 I'm a sonoran college student aspiring to specialize in illustration and concept art.

I mostly draw comics, fantasy, and urban settings reminiscent of my hometown. I've been mainly inspired by impressionist masters, ancient art and alternative comic authors like Jamie Hewlett and Jaime Hernández.

When I'm not drawing, I'm writing stories, programming my site or reading. Thanks for visiting!

•• ━━━━━ ••●•• ━━━━━ ••

Soy una estudiante universitaria sonorense aspirante a especializarme en ilustración y arte conceptual.

Principalmente dibujo cómics, fantasía y escenarios urbanos similares a los de mi ciudad. Me inspiro en maestros impresionistas, arte antiguo y autores de cómics alternativos como Jamie Hewlett y Jaime Hernández.

Cuando no estoy dibujando, estoy escribiendo historias, programando mi sitio o leyendo. ¡Gracias por visitar!